The Don'ts of Sea Freight Shipping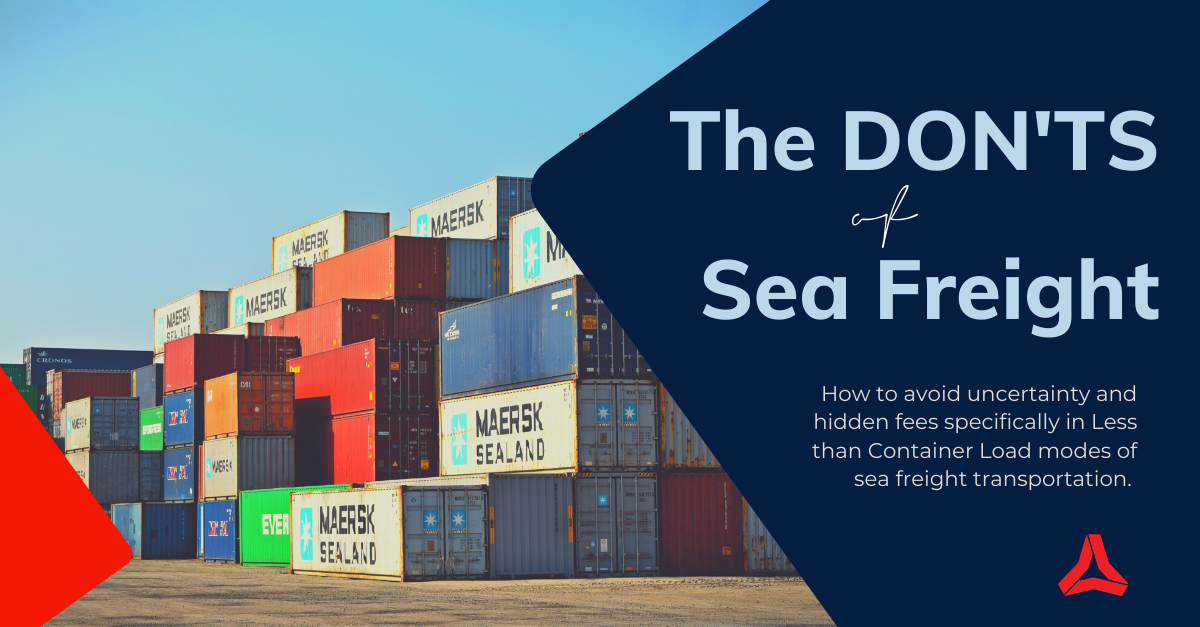 A discussion on sea freight specifically less than container load (LCL) modes, and the hidden fees the majority of the time follow this mode of shipping.
At the time of writing, I had just concluded a phone call that I have been getting throughout my 20+ year career in the logistics industry. Each time I hang up the phone, I have always been motivated to make this post although, in the earlier years before blogging and social media posts, it was more of a 'thought bubble' that remained in my head. I always thought "How can I get this education out to the market so people will not get trapped in such a ruthless fashion". Today is the day it all comes to life.
Okay, so let me start the article explaining the Don'ts of Sea Freight specifically for Less than Container Load (LCL) shipments.
The LCL Rebate Game (or RANSOM SCAM in my view) exiting ASIA, namely China.
So what is the rebate game? For those of you who are familiar with the term LCL, I am pretty sure you have been a victim of this game in one form or another. For those of you who are newbies when it comes to international shipping please read on, as it will save you much angst, confusion, and frustration.
Think for a minute...
For example, you are the buyer of goods from China. The discussion of freight will invariably come up between you and the supplier. If it's a new supplier or if it's your first time shipping goods internationally, it is always tempting to accept the freight offer from your supplier, since the idea that the supplier should know best is an automatic logic. So the conversation continues and your purchase/goods need to move via Sea freight. The quantity you ordered does not fill a full shipping container so, therefore, the only other option via Sea freight is a Less than Container Load (LCL) mode.
What is LCL mode?
This simply means that you will share a container with other shippers who also don't have enough goods to fill a container. A freight forwarder will then need to consolidate the goods into a container for it to placed on a cargo ship. Once that container arrives at the destination country, the corresponding agent of that freight forwarder will need to take the delivery and organise each party's goods and then arrange the dispatch accordingly.
Think about a rideshare concept. The driver picks up passengers and then organises their final destinations and arranges for the passengers to be dropped at their individual destination.
The rebate game
Straight forward enough so what is the game you ask? Well to attract cargo from your supplier easily the freight forwarder at origin point (start location) will give your supplier a REBATE. So instead of the supplier paying the freight forwarder for moving the goods to you, they will get a payment from that forwarder. For example, the supplier may charge you USD 50 for freight but in reality, they are getting paid USD 150 from the freight forwarder. So that supplier actually GAINS USD 200 by simply giving the freight forwarder your freight to move. Sounding dodgy yet? It absolutely is! (Ok, I am sure not all suppliers are aware of this angle but I can assure it does happen).
Because you may not have studied or learned logistics incoterms yet (ALWAYS know your INCO terms!). You accept the cheap freight offer from your supplier to ship your goods. But I have never encountered a supplier that will go out of their way to tell you that the freight quoted to you only covers the movement up to the destination port and not your DOOR!
Almost always, whenever a supplier quotes you a freight rate, it will be under Cost and Freight (CFR) terms. Learn more about CFR here. But here lies the catch (not by the supplier but by the freight forwarder). Due to the terms of CFR, you as the buyer still need to source a local freight forwarder to complete the Customs clearance and final delivery to your door.
The real kicker...
But that's not the main problem, the real kicker is that your freight is in the hands of this freight forwarder. Because the freight forwarder has paid to get their hands on your goods, they now will go to town on you, the buyer, to recoup the payment they have made to your supplier. They regain this payment by charging you overly inflated arrival fees in the form of deconsolidation or handling, that are sadly unavoidable and unexpected. This is where you (the buyer) is scammed as you were not prewarned about these additional fees/charges as you thought the freight quote from your supplier was to cover everything. Surprise!
In my experience, the buyer will normally be charged 2-4 times the market rate. This effectively blows out any margin the buyer had planned for those goods. The freight forwarder also receives a nice bit of cash flow without any risk at the expense of the buyer. Since the buyer must pay the additional fees or their goods will not be released to them. Here lies the RANSOM.
At TGL, we offer fixed pricing on all freight and customs clearance services to ensure transparency and complete understanding from the client. We have no hidden costs that could deter your international shipping from going ahead. Using TGL as your freight forwarder also includes a dedicated solutions specialist that can guide you from the start to the end of the shipping process. Get a QUOTE today.
So how can I avoid this from happening?
Follow the below steps and you will never be caught in this rebate trap.
Read, study & understand logistics Incoterms.
Negotiate Free on Board (FOB) terms with your Asian/Chinese supplier/s.
Choose the same freight forwarder that will be in charge of the international shipping along with Australian Customs clearance and final delivery.
Receive an upfront quote that is ALL INCLUSIVE under FOB terms.
Gather advice from your trusted freight forwarder every time you build a new supply chain/source.
Through this, I hope you now have a solid understanding and foundation steps on how you can tackle the LCL "quicksand" rebate situation.
-La Chang
CEO