10 Freight Forwarding Facts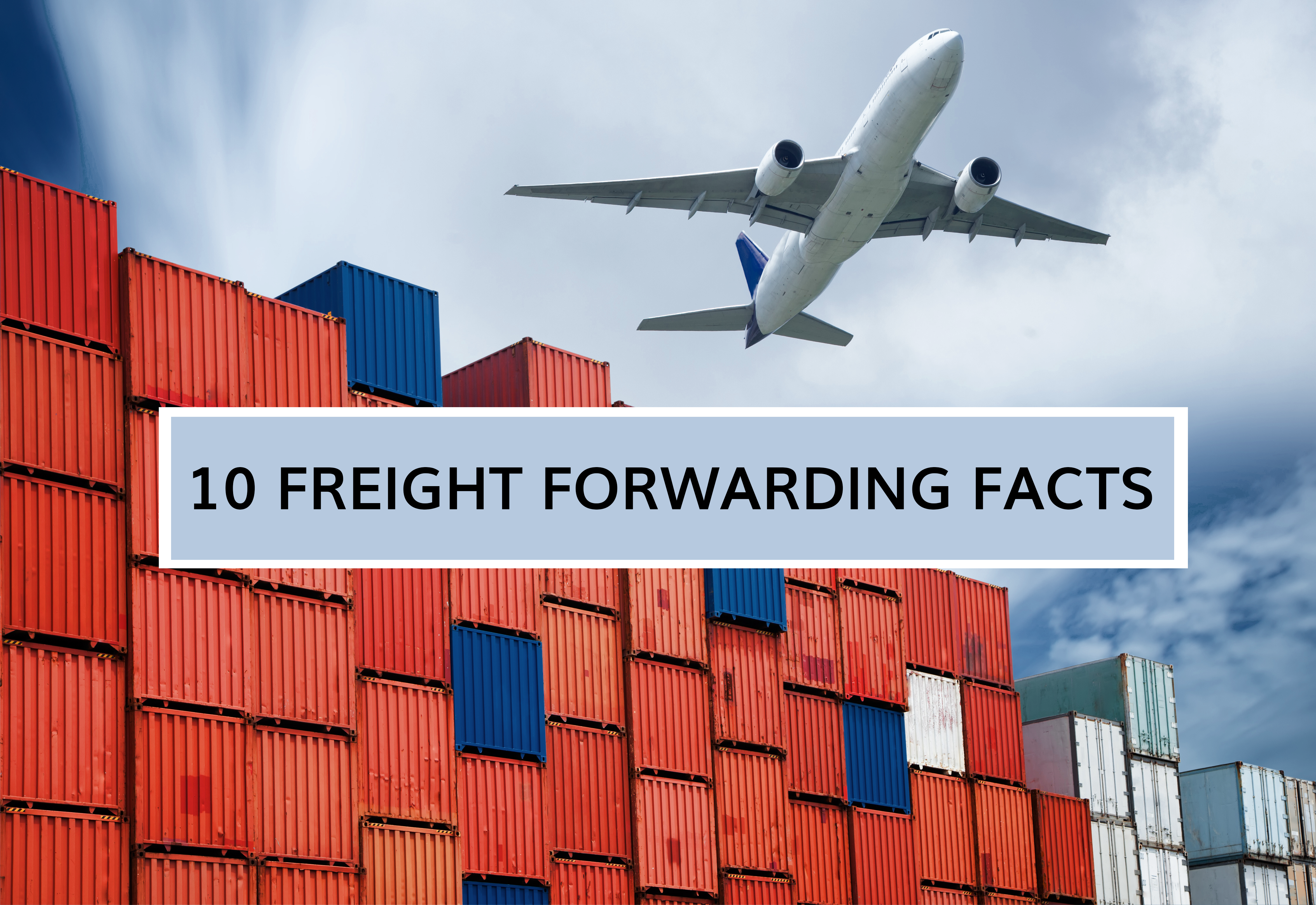 Want to know more about Freight Forwarding? Here are 10 facts that I bet you didn't know
1. Freight Forwarders can help business A LOT
Freight forwarders can assist your business in all of your logistics and shipping needs but they also take the responsibility for your shipments arriving on time. They are an end to end business support system that will use their expertise to determine routes, the best shipping partners and price available to your business
2. Freight Forwarders offer multiple services
Usually, most freight forwarding companies offer a number of services to their customers. These services range from; air freight, sea freight, domestic or land freight, distribution warehousing, and customs clearance.
3. Freight forwarders alleviate logistics stress
Using a freight forwarding company means you can alleviate the stress that surrounds importing and exporting goods, especially if you're an international buyer or seller. Having a freight forwarder will allow you to rely on their expertise to ensure your goods will arrive on the agreed time as well as assisting in customs clearance , document generation and facilitation between shipping partners.
4. Freight Forwarders are not to blame for your shipping delay
When there is a shipping delay it is usually out of the freight forwarders hands. Shipping delays can occur due to bad weather conditions, delays in different ports, vessel breakdowns and any unforeseen changes to the route. In fact, the freight forwarder is usually trying to resolve the problem at their end to ensure the goods reach their final destination in a timely manner.
5. Freight forwarders abide by strict regulations.
There is strict protocol that all freight forwarders must abide by when shipping goods internationally. For example, in Australia all businesses associated with global trade report to the Australian Trade and Investment Commission. This government body ensures that businesses importing and exporting from Australia all follow the same regulations. Most regulations surround the topics of:
Dangerous Goods
Perishable Goods (eg. Fruit & vegetables)
Drugs (eg. Prescription & recreational)
Alcohols
Batteries
6. There are specialist freight forwarders.
Just like most other occupations, in freight forwarding, there are specialists that have expertise in the different modes of transporting cargo. Some freight forwarding companies handle many clients within one category of freight forwarding, so, therefore, they are more knowledgeable in that field. It is advised that you source a freight forwarder that is an expert in dealing with your cargo type.
7. Freight forwarders deal with documentation & different information a lot
Because freight forwarders handle multiple clients cargo all the time, they are experts in filling out the specific documentation linked to importing or exporting goods. Documents such as commercial invoices, bill of landing, shippers' export declaration and inspection certificates. These documents help you to ensure that your customers receive their goods and also act as a layer of security in case of loss or damage.
8. The speed of logistics has improved with time
A lot of global traders are hesitant to use sea freight because of the considerably long time span that it takes to ship goods across seas. As time has passed, shipping services have worked hard to improve their speed of travel allowing it to be more accessible to many other global trade partners.
9. The strength of a freight forwarder' network is vital.
A well-established freight forwarder will have a strong and reliable network of contacts that can assist in your logistics needs. This will not only allow you to get a great price for shipping your goods but it will ensure that they arrive in a timely manner.
10. Shipping through freight is cost effective!
Believe it or not, transporting your goods through a freight forwarder can be one of the cheaper solutions. The shipping costs usually depend on the size of the cargo, quantity and the destination it is travelling to. This information is all used by the freight forwarder to quote for their services.